Post by molasses on Apr 24, 2010 22:14:47 GMT -5
Signed onto this board awhile back and have popped in now and then to check things out. Figure it's time to get involved.
I started buying Gun Digests new each year as they came out more years ago than I care to admit. I've also hunted down older ones until I'm only a handful away from a full set. That's germane because I'm blaming this whole thing on Layne Simpson's article, back in like the 1987 edition. If I hadn't read that several times over, I wouldn't've even known what those goofy-looking things are...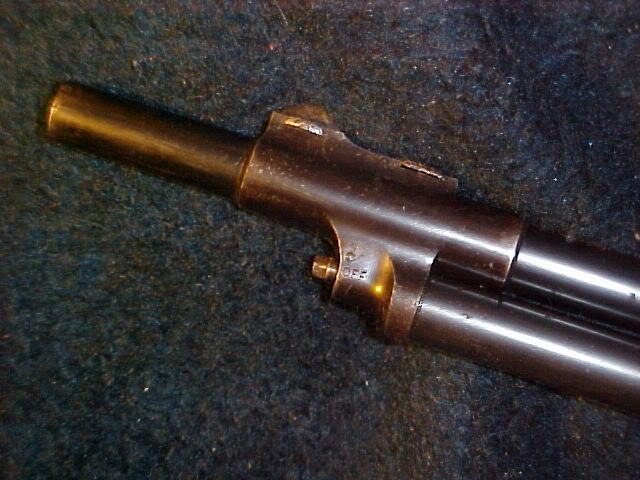 So, I've got a Standard as described in the subject line. Actually, at one time a few years ago I had two of them. The other one was in sorry condition and I eventually let it go. For one thing, the bore and chamber were pitted to the point where fired brass looked rough. Not that the one I still have is any great prize to gaze upon, having some bad areas of external pitting, but at least it doesn't mess up the brass (aside from giving it a beating).
One of the used gun price guides said that after Standard went under, some were completed from parts by Numrich. I've formed a tentative theory that the one I kept might be one of those "put together" guns. It has a different style of bolt hold-open than the other had (that one used the flat spring with a button on the end as is still sold as a part by Numrich/GPC while this one has a spring-loaded plunger housing attached to the side of the receiver), the head of the gas piston has a ringed cylindrical shape to it that resembles what's seen in some later gas operated arms (the other was more like an engine valve, with a profile like the bell of a trumpet) and the safety lever is larger and has a knurled extension. I've also read that Standard Arms worked on improving their guns pretty much up to the end, so...I don't know. Hopefully someone here can help in that regard.
As mentioned in passing earlier, I've shot both standards I've owned and still take the remaining one out once in a while. I can confirm the report in another thread about ejection being "forceful" and pretty much straight up. Shooting from a covered firing line usually results in brass bouncing from the underside of the roof directly over the bench. However, I'm inclined to start mostly operating it in pump mode in the future, as the "buffer" is just a pair of springs attached to the rear of the bolt and mine look somewhat deformed and splayed towards the sides.
It's already past when I normally get to bed. I'll try and get some decent pictures taken and posted tomorrow, including some of the oddities mentioned earlier and of the internals.