Post by supersporter40 on Jul 26, 2008 9:56:33 GMT -5
I feel like I am still a new fan of the model 8 Remington. It has only been one year and one month since I first discovered this rifle's existance up where my great Grandparents homesteaded in Alberta after coming over from Norway.
They ended up in, Bergen Alberta is a Norwegian settlement and that should be obvious just by the name the same year a trapper from Wisconsin homesteaded there. A Gentleman by the name of Martin Arneson.
First go back a year to 1910. For what ever reason he must of had dreams of living in the northwest. I have his journal here, and from what I can gather he sold most of his posessions to make the move up here. Several large game rifles as well as pistols were logged as being sold.
More interesting, he picked up a Model 8 Remington in early 1911 before moving up here. His notes show it was his only high powered rifle he used for hunting from 1911 until 1958. Keep in mind he was born in 1881. He passed away in 1964. Even in Martin's later years he did not hunt so much but he rode along with others to base camp and hung out there. My Grandfather still remembers seeing Martin at the Ya Ha Tinda, tending to the hunting camp while he partners were out for game.
And now you think fine and dandy, this guy used only one rifle for 47 years, so what. Well the amazing thing is the rifle was only a 25 Rem!
Keep in mind he has data there shooting everything from porcupines eating his crop to wolves and mule deer right up to bull moose.
I need not use words to convince you, look at the pictures.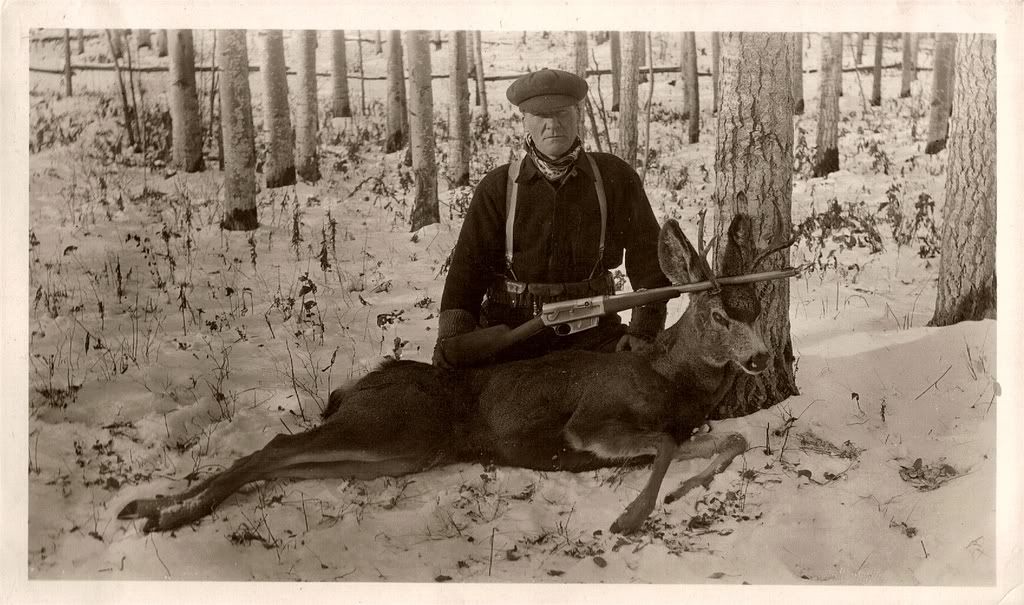 Here is Martin with his good friend and neighbor John Haug. I am very blessed to know John's son who is cloing in on his 88th birthday this year. He was very good friends with my Gramma so it is great to visit with him every chance I can get.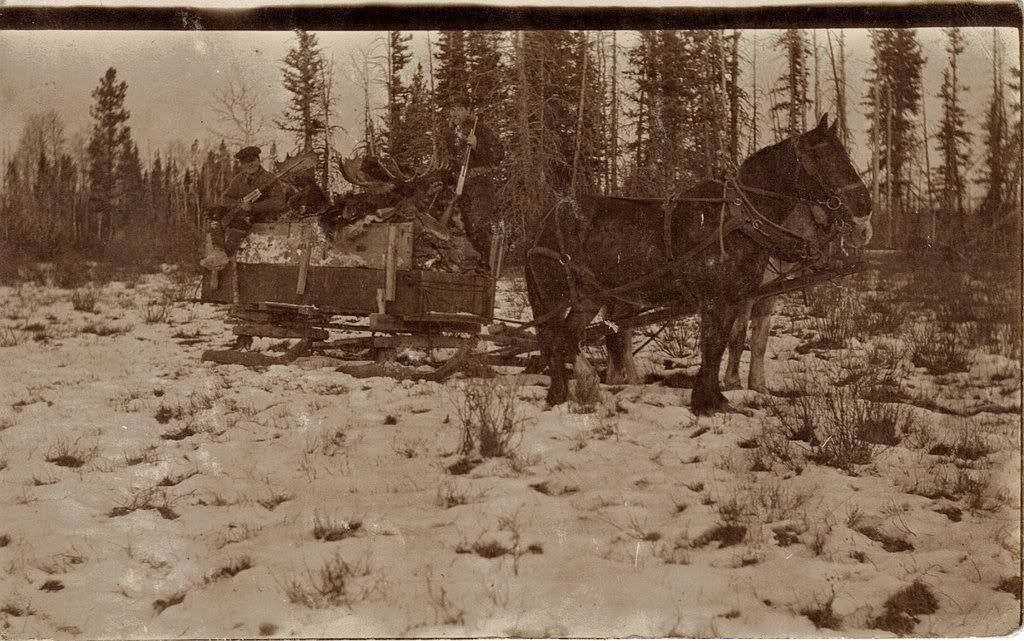 Here is John again, what a stellar picture. Funny thing is the picture is a joke. You see John had quite the sense of humor, he had that goatee pasted on just for the picture. He also used a Model 8 in 25Rem for all his hunting.
Here is the Fossum family. The family was one of the very first in Bergen, and the first to leave too. They moved to the southeast of Alberta in 1916. You will see Martin's model 8 being held in the pic. No doubt he was in on the fun that day, and likely took this picture hence why he is not holding his gun.
Here is Martin at one of his many Cabins. He was always trapping, his line covered over a hundred miles. Details are pretty vague here but his has records of trapping all over Alberta but still coming home to Bergen.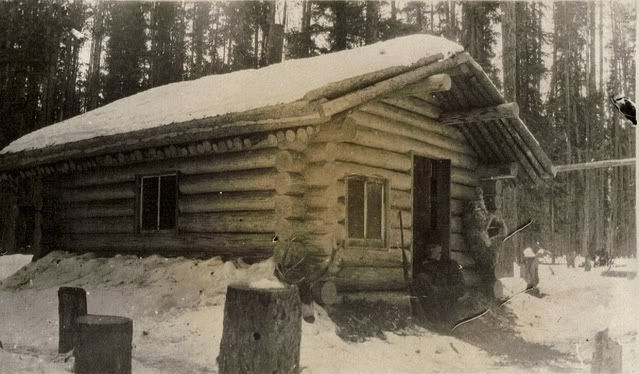 One of his moose circa 1940's or early 50's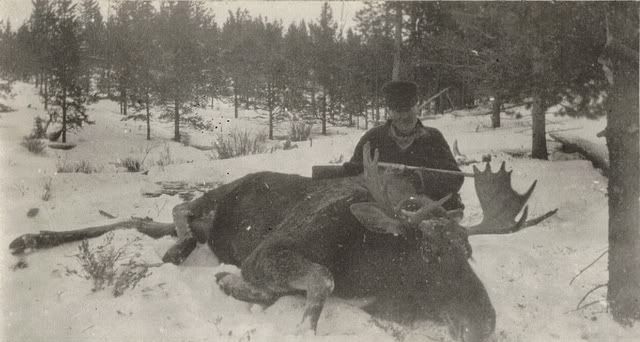 Here's another pic of Martin hunting with John Haug. John has a model 14 in 25Rem here. the 25 sure was popluar in this community.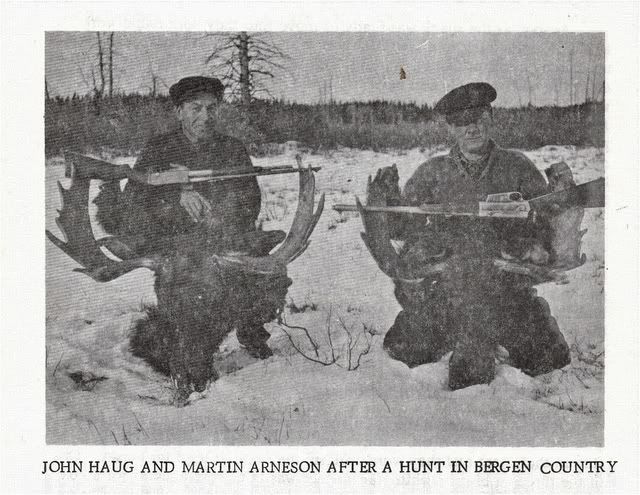 Martin in later years, still proud to show off his 25Rem.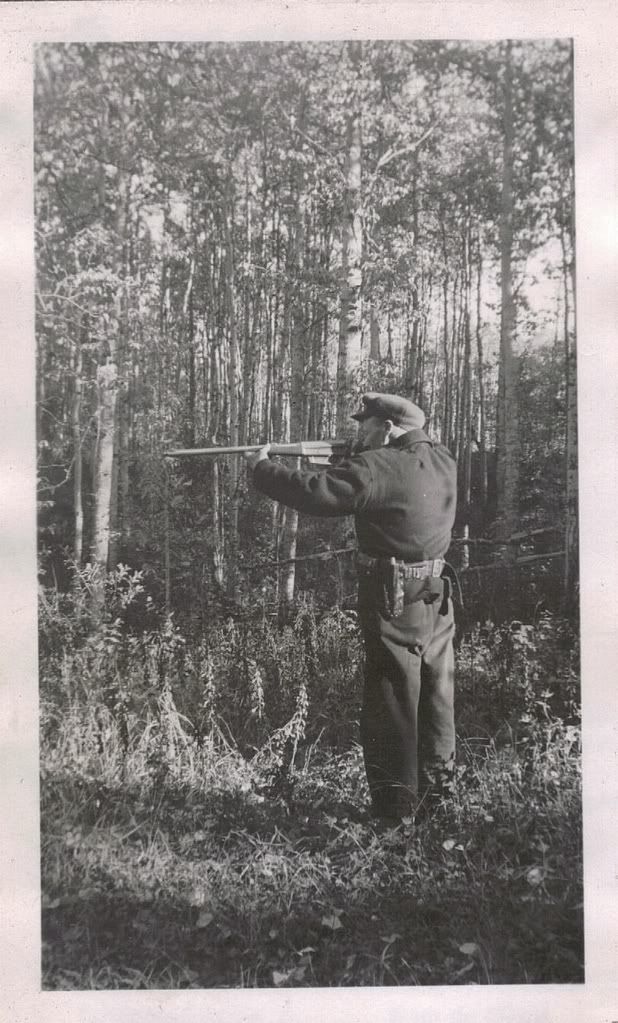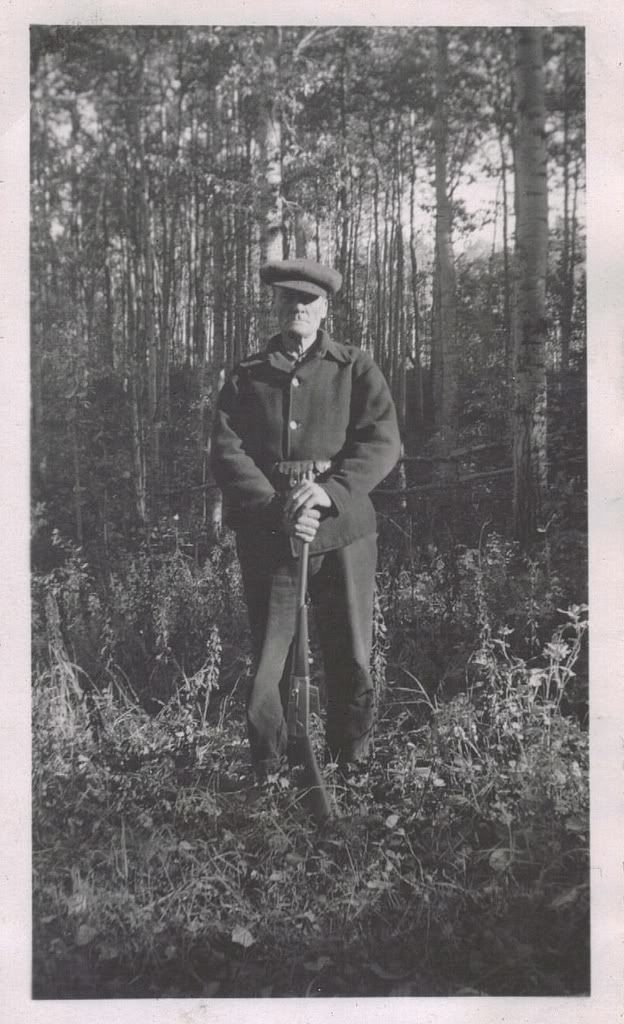 And finally, Martin at his farm and homestead in Bergen. Left to right: My Grampa Fred, my Mom and my Aunt Evelyn by Martin.
This pic is dated 59 so it is not long before Martin passed away.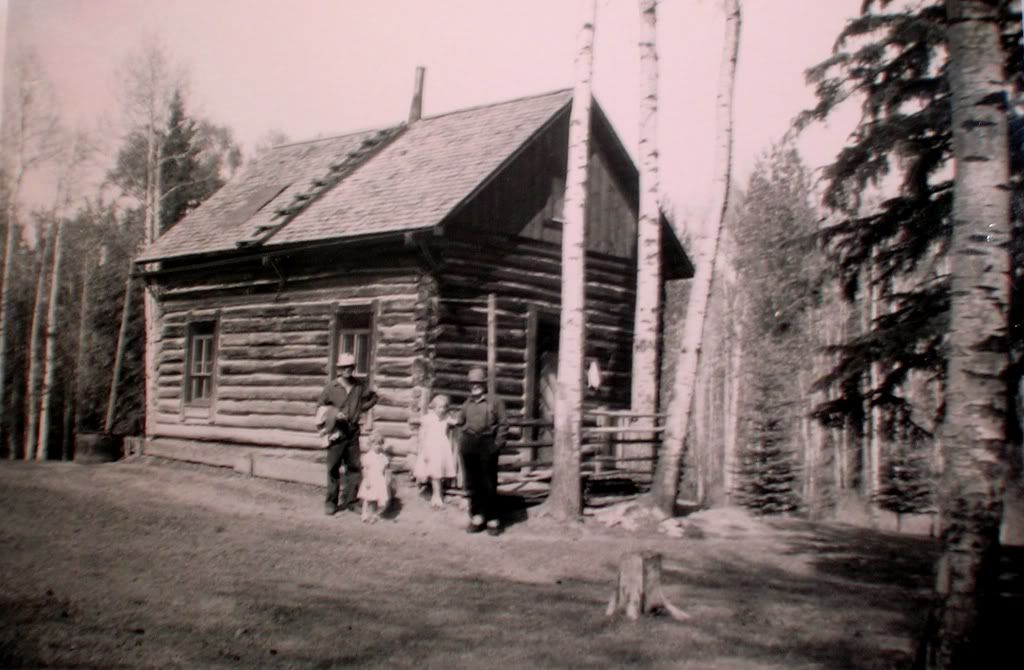 Hope you enjoyed the pics. I will add more when I get a chance.
Noel